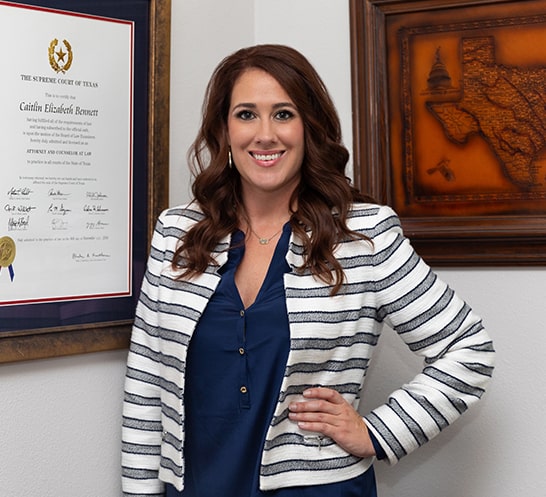 Caitlin E. Bennett Family Law Attorney
Caitlin Bennett was born and raised in Odessa, Texas. She spent her undergrad at Texas Tech where she became a member of the Tri Delta Sorority. She graduated from the University of Texas San Antonio in May 2012 with a degree in Political Science. Caitlin stayed in San Antonio to pursue her law degree at St. Mary's University.
Caitlin began her legal career with the Zarka Law Firm as a clerk to Jennifer Zarka while in law school and has worked her way up over the past several years to associate attorney. As a result, Caitlin has a vast amount of experience defending clients in multiple facets of the law.
Caitlin Bennett and her team at Zarka Law Firm are dedicated to providing the best legal strategy to ensure an optimum outcome for their clients. Family Law is a complex area of the law that requires a steady hand. Caitlin is able to advise her clients during meditations to make decisions that will be in the best interests of themselves and their children. However, if necessary, Caitlin will be prepared to be a zealous advocate at trial for her clients.
Caitlin has experience in effectively representing clients from first contact with her office until their case is settled or a court judgment is entered. She is known for her ability to listen, understand, and empathize with her clients based on the circumstances of the case.
The Zarka Law Firm is well aware of the emotional nature of its work when dealing with the complexities of family law matters. Caitlin understands this and handles her cases with compassion and dedication, ensuring the best interests of her clients are met. She is experienced in the areas of divorce, child custody and support, custody modification, adoption, and other areas of family law.
In her free time Caitlin likes to spend time with her dog Maverick, and surround herself with her friends, family and anything near the water.
Professional Associations and Memberships